Coleção Sweet Vibes | Tropical 2018
[PT]
O desenvolvimento dessa campanha de marketing digital da Elian Têxtil, teve como conceito visual as brincadeiras e aos principais elementos que lembram o verão. Usando uma paleta de cores em tons pastéis, baseada na identidade da marca e das estampas da coleção, possibilitou uma campanha alinhada com a experiência omnichanel da marca.
[EN]
Digital marketing campaign for the summer collection of Elian Têxtil. The concept of fashion design was light, sweet and good vibes. Using a color palette in pastel colors, based on the brand identity and the collection's prints, opened the way to work experimentally on a campaign aligned with the brand's omnichannel experience.
[PT]
Desenvolvemos todo o material de divulgação digital para CRM (Customer Relationship Management). Landing page personalizada para lojistas e revendedores, redes sociais, stories, conteúdos para blog, catálogo digital, anúncios segmentados e e-mail marketing para clientes e consumidores, trazendo resultado positivo e com abrangência nacional.
[EN]
Developed all the digital advertising material for CRM (Customer Relationship Management). Personalized landing pages for retailers and resellers, social networks, stories, blog content, digital catalog, segmented ads and e-mail marketing for customers and consumers, bringing positive results and nationwide coverage.
[PT]
"Depois de brincar e se divertir com os amigos, o que todo mundo mais gosta? Doces e mais doces" Delícias que trazem a sensação de carinho e alegria sem fim. Cores que despertam a fome de quero mais. Verão tem essa mistura boa de sorvete gelado, frutas tropicais, balas fofas e frescor de sabores. É nessa vibe contagiante que a Coleção Tropical 2018 vai conquisar a galera, trazendo conforto, estilo e muitas novidades para a temporada mais gostosa do ano."
[EN]
"After playing and having fun with friends, what does everyone else like? Sweets and sweets" Delights that bring the feeling of endless affection and joy. Colors that arouse the hunger for more. Summer has this good mix of frozen ice cream, tropical fruits, soft candies and freshness of flavors. It is in this contagious vibe that the 2018 Tropical Collection will conquer the crowd, bringing comfort, style and many new features for the hottest season of the year."
Campanha | Alegria de Natal 2018
[PT]
Em dezembro, entrou no ar a ação de marketing digital de Natal, onde desenhamos cartinhas e elementos natalinos para serem impressos e para as crianças.  A ação contou com digital influencers kids, CRM e vídeos, com o objetivo de marcar presença de marca no online e proporcional maior interação com o consumidor.
A campanha teve grande percentual de aumento orgânico de seguidores, engajamento e aumento de tráfego nas plataformas digitais.
[EN]
In December, the Christmas digital marketing action was launched, where we designed letters and Christmas elements to be printed and for children. The action had digital influencers kids, CRM and videos, with the objective of establishing a brand presence in the online and proportionate greater interaction with the consumer. With 59% more engagement, 125% more followers and 42% more traffic.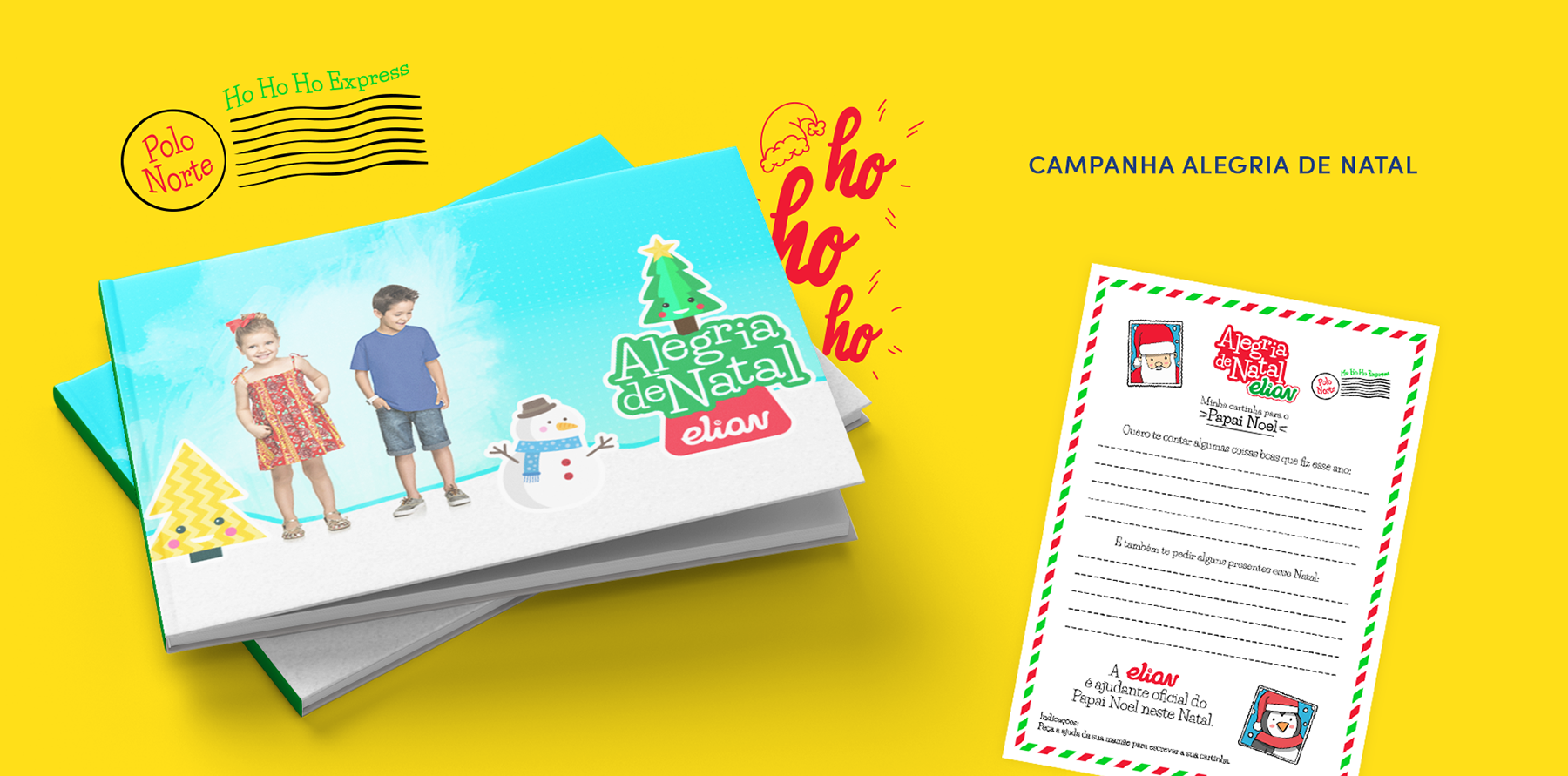 [PT]
"Sabe quem mandou centenas de cartinhas prontas para serem escritas?
O Papai Noel! 🎅🏾 A Elian quer fazer parte do seu Natal e além das cartinhas, preparou vários desenhos prontos para serem coloridos e que viram adereços para a sua árvore de Natal. Faça parte dessa Alegria de Natal!"
[EN]
"Do you know who sent hundreds of letters ready to be written? The Santa Claus! 🎅🏾 
Elian wants to be part of your Christmas and in addition to the letters, she prepared several drawings ready to be colored and that turned into ornaments for your Christmas tree. Be part of that Christmas Joy! "
Coleção Casa da Nona | Inverno 2018
[PT]
A Elian representa uma das marcas mais prestigiadas da moda infantil. As coleções são lançadas a cada estação e revendidas por multimarcas e online, e contam com direção de arte e marketing digital. A campanha de lançamento de inverno não foi diferente, e teve cuidado especial para que toda identidade remetesse ao lugar com mais memórias afetivas: A casa da vovó, chamada carinhosamente de "Casa da Nona".
[EN]
 Elian represents one of the most prestigious brands in children's fashion. The collections are launched each season and resold by multi-brand and online, and have art direction and digital marketing. The winter launch campaign was no different, and special care was taken to ensure that every identity referred to the place with the most affective memories: Grandma's house, affectionately called "Casa da Nona".
[PT]
As ações de social media, tiveram como objetivo de geração de novos negócios focada no mercado nacional, onde as campanhas são focadas na atuação geolocalizada. Com campanhas para B2B e B2C, a marca conquistou diversas oportunidades de negócio e quantidade impressões com Google Adwords. Com mais de 91,6mil seguidores no Instagram, o site teve um aumento significativo no fluxo de visitas. Além disso, houve um aumento de alcance orgânico, atingindo diversos usuários em posts sem investimento. 
[EN]
 Social media actions aimed at generating new business focused on the national market, where campaigns are focused on geolocalized performance. With campaigns for B2B and B2C, the brand won several business opportunities and more than 375 thousand impressions on Google Adwords. With more than 91.6 thousand followers on Instagram, the site had a significant increase in the flow of visits. In addition, there was an increase in organic reach, reaching several users in posts without investment.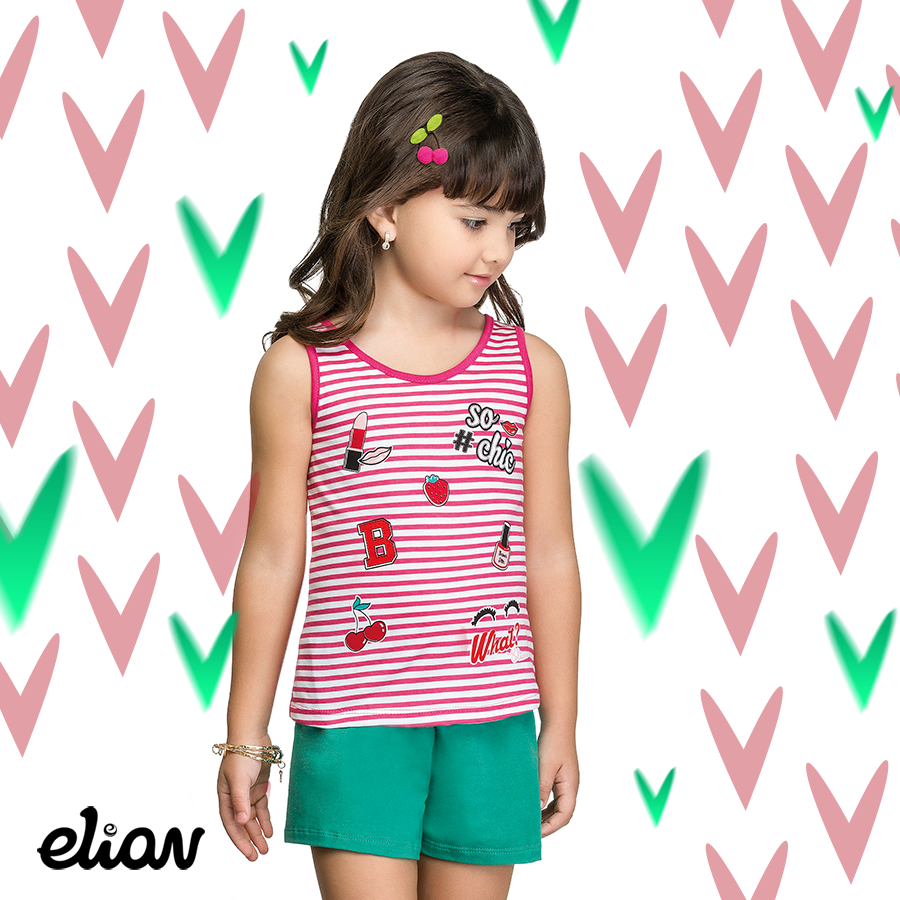 [PT]
Há quase 30 anos no mercado, o 
Grupo Elian
, localizado em Jaraguá do Sul/SC – atua no segmento têxtil. Investindo em tecnologia e cuidando da qualidade de seus produtos, agregam conforto, qualidade e informação de moda. Presente em lojas de todo o Brasil e também no exterior.
[EN]
For almost 30 years in the market,
Grupo Elian
, located in Jaraguá do Sul/SC - operates in the textile segment. Investing in technology and taking care of the quality of its products, they add comfort, quality and fashion information. Present in stores all over Brazil and abroad.